Devra and I enjoyed a date night in Sugar Land, TX a while back.  We enjoyed a wonderful meal and headed out to see a documentary singularly playing in the Houston area at that specific theater.  We purchased our tickets ahead of time online so that we would make sure we had a seat.   While the cinema was crowded, there was only two other people in the theater showing DivorceCorp.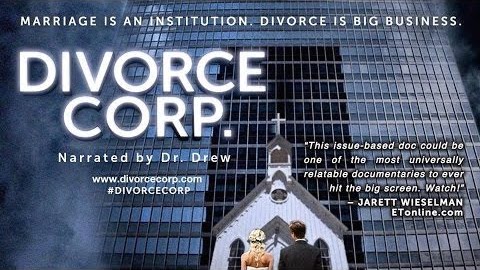 DivorceCorp bills itself as "A shocking expose of the inner workings of the $50 billion a year US family law industry…(which) shines a bright light on the waste and shameless collusive practices seen daily in family courts."  As veterans working to keep married couples out of divorce courts, we were anxious to see for ourselves.
The movie was active, with several stories of experiences of divorced and divorcing couples mixed in with interviews with family lawyers, judges, child custody evaluators, private detectives and appraisers.  Unfortunately, it was not shocking to us.  All of the stories and statistics are all too familiar in our work.
We recommend this movie, or the book if you can't get your hands on the movie, for anyone who is getting married, divorced,  or having a child (whether you are married or not).  Before you contact a family attorney, see this movie and consider investing in effective interventions like the Marriage Intensive.
The facts:
11% of couples who divorce remarry each other.
80% of couples who decide to work through their tough season instead of divorcing end up happier than ever before in their marriage relationship.
Only about 40% of first marriages end in divorce, while over 50% of second marriages and over 70% of third marriages end in divorce.
$20,000 to $50,000, depending on which state you are in, is the average cost of divorce.
The average retainer fee to visit with an attorney is $3500 – $5,000.
The court can mandate (and frequently does) any professional assessments of either party, children, assets, home, etc.  The cost of those services, and the attorney fees can be garnished from future earnings or taken from assets by the court.  If you do not pay, you can be held in contempt of court and placed in jail.
Some attorneys make more money from the almost yearly changes in custody arrangements than they make in the original divorce proceedings.
The average length of a divorce is 18-24 months with some divorces taking over 8 years.
The family's assets are not split 50-50.  The families assets are frequently moved into the pockets of the attorneys, courts and professionals ordered through the court system to assess property values, custody, etc.
Almost all of the campaign funds raised by family court judges is from the family attorneys who appear in their courts.
There is little to no oversight of the ethics of family court judges and their relationships to those who make money from their court orders.
Divorce affects the bottom line of businesses through sick leave, lowered productivity and being off task while at work.
We were surprised by the movie's premise that it is a movement to bring ethical change into the family court system.  During one part of the movie, Dr. Drew Pinsky (yes that Dr. Drew) the narrator, tells how much easier and less costly it is to get a divorce in another country.
We disagree.  We think it needs to be harder to get a divorce.  We personally know (and receive referrals from) family attorneys who practice ethically and do not put making money above what is best for children.  We think family lawyers should practice with a similar ethic to the Hippocratic Oath: "First do no harm".
We also believe that if there are children in the family and there is no accusation of family violence, that the first call to the attorney should require an automatic referral to see if there is any chance in possible reconciliation.
We know from years of working with couples that traditional marriage counseling has about 50% success rate for couples who are in crises.  Couples weekends in groups seem to have about the same rate of success by themselves.  We have found that the marathon counseling of a Marriage Intensive is the best chance for saving marriages of distressed couples.  We have experienced the same rate as others trained in this approach of saving about 85% of marriages.
Bottom line, we recommend this movie.  We may find a way to include it in our work with premarital couples and help them think through what they plan to do if their fairy tale marriage begins to feel unstable or painful.
If you see it, please let us know your thoughts.