"I'M NOT SURE IF I SHOULD CALL YOU OR A DIVORCE LAWYER?"
The Marriage Intensive was developed for couples whose relationship is on life support.  If you are wondering about the future of your relationship and are having trouble seeing a future with your spouse, the Marriage Intensive is the best chance for reviving your relationship.  You can feel hope.  If there is one cell within your body that believes there might be a sliver of hope, you need to give the Marriage Intensive a good try.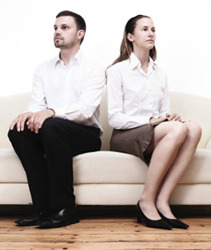 Our Marriage Intensives has been successful with couples who have…
experienced recent or a history of infidelity, adultery, pornography addictions, sexual acting out;
experienced financial disaster due to poor decisions of one spouse and are in deep mistrust over financial matters and the families financial future;
been separated for periods of weeks to over a year and who have not had sexual intimacy in over five years;
been through repair attempts with marriage counselors, pastors and others that have not worked in the past, and many other situations.
Divorce is costly.  Staying stuck in an unhealthy marriage can be just as costly to the financial, physical, and familial health of the couple and family.  The average cost of a contested divorce today, including custody revisions, is between $20,000 and $50,000.  A retainer during the first visit with a competent family law attorney is usually more than the cost of trying our Marriage Intensive.
Usually one spouse in the marriage has had enough.  They feel pressured to make a decision between staying stuck in a bad marriage or filing for divorce.  There is another option.  Try making your marriage healthy be investing a fraction of the cost in our marriage saving Marriage Intensive.
Did you know that 11% of couples who divorce end up remarrying each other?  That is more than 1 in 10 couples who went through the emotionally charged and damaging divorce process who could have avoided it by first trying an effective marriage saving approach like our Marriage Intensive.
Do not make a permanent decision in what may be a temporary situation.  In one study, over 80% of couples who decided to stay together and not divorce during the worst problem season of their marriages later found their relationship happier and more satisfying than before the worst season ever occurred.  That means that your best days of marriage as a couple are likely on the other side of this worst season in your relationship.
The Marriage Intensive is a way to make sure you need a divorce before proceeding.  It is a way to come to a final decision, once and for all, to either move forward toward a new future together or to finalize the end of the marriage by beginning the divorce process.
"WE TRIED COUNSELING AND IT DIDN'T WORK BUT THE LIFE TOGETHER FOREVER MARRIAGE INTENSIVE SAVED OUR MARRIAGE!"
According to leading marriage counselors and researchers, evidenced based relationship and marriage counseling only works about half the time.  The traditional counseling model of an hour or two a week tends to take too long.  The pain the in the relationship that caused the call for help is not helped by adding pain frequently associated with the change process.  Couples too frequently give up before getting the change they came to counseling for in the first place.
That is the reason we developed our own Life Together Forever Marriage Intensive.  During our Marriage Intensive, you can expect to work through the same pain of change in a much shorter time span with a success rate of over eighty-five percent.  you and your spouse will spend the day with focused attention on your relationship.  There will be no more wondering about whether your spouse is actually working on his or her counseling needs.  You will know as you invest in uninterrupted energy and time on repairing, healing and restoring your relationship.  Life Together Forever Christian couples help is right for you.
WHAT IS A MARRIAGE INTENSIVE?
The Marriage Intensive is a series of facilitated training processes that focus on helping you get to the root of the pain in your marriage and learn what to do with it in order to move forward together.  One couple spends the day along with Roy Wooten and either Devra or one of our other trained facilitators.  No other couples are involved.  You and your marriage are the sole focus of the day long process.
You and your spouse will be asked a series of questions that will help you tell your story and become clear on what it is that you need and want from your relationship.  You will also have a chance to hear, with new ears, your spouse's story and what he or she wants form the relationship.  Although the Marriage Intensive has very few teaching moments, couples report that they learn a great deal about their spouse and how to move forward.  The Marriage Intensive is not complete without a clear plan about how to move forward.
What do you have to say?
We love to hear from readers. What other suggestions you would add to this article? Do you know someone you need to forward this article to?
This article was written by Roy and Devra Wooten, authors of "The Secret to a Lifetime Love". Learn more at www.LifeTogetherForever.com © Roy and Devra Wooten 2017. All Rights Reserved. You may replicate this article as long as it is provided free to recipients and includes appropriate attribution. Written permission for other use may be obtained at Secret@LifeTogetherForever.com.