Every once in a while a book and movie catches our culture's attention in such a way that social and traditional media bombards us with it. Such is the situation with the book and now movie release of the popular "Fifty Shades of Grey".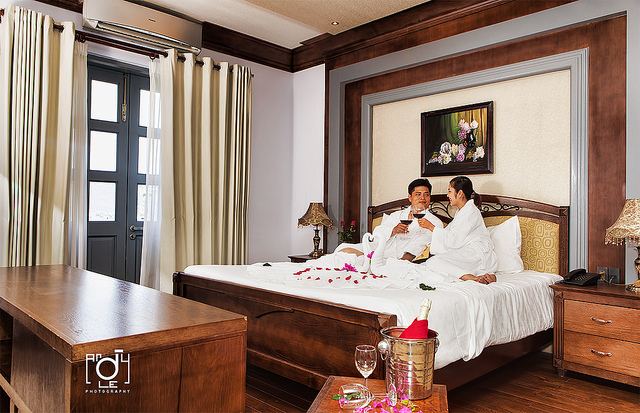 When you make your spouse the only object of your affection, your sex life becomes hotter and marriage happier!
We have not read the book nor watched the movie. Reviews have matched the book's theme of "porn for women". And we thought it relevant to discuss the topic of sex in the healthy God-blessed marriage. Our experience in working with couples on the brink of divorce in our Marriage Intensives or with couples wanting to maintain a good marriage in our Life Together Forever Weekends matches what research and the Bible says about what makes marriages work.
Sex is best and blessed in marriage only. Long term sex research tells us that the absolute best and most satisfying sex happens in a long term monogamous relationship where there is emotional connection and commitment to each other. The Bible says God blesses sex only in marriage between a man and a woman (Matt 19:4-5, 1 Tim. 3:2&12).
Couples who meet each other's sexual needs make marriage work and are blessed. It is difficult to read the entirety of scripture and forbid any sexual activity between consenting spouses (only – no third party) in a marriage (Song of Solomon, I Cor 7:3-5).
Couples who communicate with each other about sex are happier. It is impossible for your spouse to know what works for you sexually if you do not communicate with them about it. Make time for a discussion with your spouse about your sexual frequency desires and the types of sexual activity you prefer and are open to for your spouse. Talk to your spouse, not others, about your sex life.
Your brain is your biggest and most important sex organ. Your spouse's thoughts about your relationship commitment, trust, respect, emotional connection and security affect their attraction to you. To increase sexual desire, work on building commitment, trust, respect, emotional connection and security in your marriage. (Eph 5:29 & 33, I Cor 6:19)
You control how sexy your spouse is to you. When you hold your spouse as your sole sexual desire, then your brain becomes turned on when you see your spouse. When your spouse's physique is competing in your brain with other's physiques, then it may be difficult to feel attraction toward your spouse. Stop putting other's body images into your brain and your spouse will become more sexy to you.
We want to encourage you to fill your mind with Fifty Shades of Your Husband or Wife, instead of other images. Move toward your spouse sexually instead of moving away from him or her. By going outside of your marriage, in any way, shape or form, for what you should receive only in your marriage, you are tearing at the future of your relationship. May you create a marriage God can full bless!
How do you make your spouse the "object of your affection" and set them up for "Fifty Shades of Your Spouse"?
This article was written by Roy and Devra Wooten, authors of "The Secret to a Lifetime Love". Learn more at www.LifeTogetherForever.com © Roy and Devra Wooten 2015. All Rights Reserved. You may replicate this article as long as it is provided free to recipients and includes appropriate attribution. Written permission for other use may be obtained at Secret@LifeTogetherForever.com.