The fundamental problem with my marriage is ME.  My selfishness.  My me-first attitude.  ME!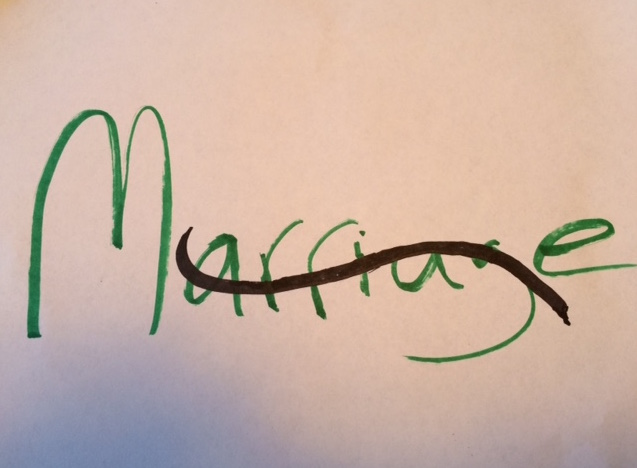 Then the Lord God Said: "It is not good that the man should be alone; I will make him a helper fit for him."  Genesis 2:18 (NIV)
God designed marriage to address the problem. He built the institution of marriage for the purpose of meeting the need within our souls for a lifelong marriage. He intended for life to us to be together forever.
Three Myths of Marriage
Marriage is about my happiness. Marriage was never intended to be about your happiness. Marriage is about a deeper-than-happiness connection that leads to a deeper-than-happiness joy.   Marriage is about connectedness. God intended for you to be emotionally, spiritually and physically one, moving in the same direction. The picture painted is one of sacrificial love and absence of self-centeredness. We are to love our spouse as Christ loves us (Ephesians 5).
If I find my true soul mate, I will have a perfect marriage. Soul mates are made, not born. The perfect person does not exist and therefore you cannot have a perfect marriage. Have you ever wondered why God made you and your spouse so different. We believe it is His gift. He gave us a spouse that is different so that He could use our spouse to mold us into a better, more Godly person. Although it is quite painful, God uses our imperfect spouse to highlight our flaws so that we can move into becoming the person He wants us to be.
My spouse should make me feel loved. Marriage is not about how much you loved, but how much you are willing to give love.   Stop waiting on your spouse to love you better or more. Instead start taking the actions of love and you will find that you begin to feel more loved.
Loving First
We were recently at a marriage conference and heard John and Amy Beukema share an analogy that we had never heard before and that we thought was so important for us to share with you.   If you are a parent, you will really get this.
When we have a child, they are totally dependent on us for life. We love the baby through all the ups and downs of their first several years. We are up late at night, early in the morning and all throughout the day. We clean up messes, spills, explosive diapers and other bodily fluids.
We love our baby when we don't feel like it and when we do feel like it. We love our baby although they do not do anything for us at all. There is no reciprocation. There are no loving words or actions. If they ever do for us any of what we have done for them, it is probably not for about 5 or 6 decades later.
We engage in sacrificial acts of love, unilaterally, without expecting anything in return for a very long time.
Engaging in sacrificial acts of love, even when we do not feel like it, creates love in our hearts. In our sacrificial acts of love, we feel a great amount of love.
SACRIFICIAL ACTS OF LOVE = HAVING MORE LOVE IN YOUR HEART
Waiting on your spouse to make you feel loved moves you further away from what you are seeking.   The fastest way to build love in your marriage is for you to act with sacrificial love first.  In action, along the way, you begin to move from the need to be loved, to knowing you are a loving person. As I change from a stance of blaming her for not being loved, I find that I begin to feel loved.
What do you have to say?
We love to hear from readers.  Have you also found that taking unilateral actions of love helps you feel love? Can a spouse love sacrificially to a fault? What is the upside of taking loving actions unilaterally? What would you add?
This article was written by Roy and Devra Wooten, authors of "The Secret to a Lifetime Love". Learn more at www.LifeTogetherForever.com © Roy and Devra Wooten 2015. All Rights Reserved. You may replicate this article as long as it is provided free to recipients and includes appropriate attribution. Written permission for other use may be obtained at Secret@LifeTogetherForever.com.