Shannon and Katie emailed us about an annual argument they are having. Every year as the holidays approach Shannon's parents pressure him to nail down their holiday plans and include as much time as they can with them. Katie's parents decide the details about their holidays the week before which means Katie has a hard time contributing to the planning.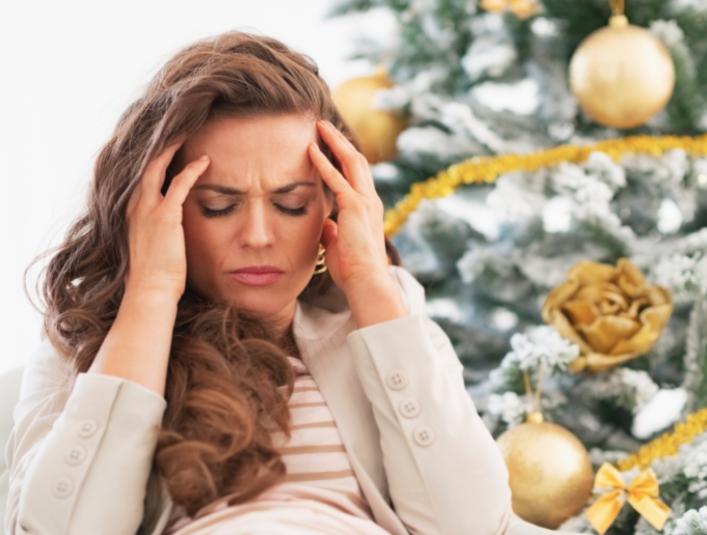 "Holiday stress is high enough without all the pressure of trying to not hurt anyone's feelings," Katie shared. "I wish there was an easy way to figure it out and make everyone happy," Shannon added.
Holidays Are Stressful
There is a long list of things that accumulate to make the holiday so stressful. According to the Greenberg Research Institute, people in the US are more likely to feel their stress increase during the holidays.   The Consumer Reports National Research Center annual survey listed family in the top five things Americans dread about Christmas.
Even great marriages feel the stress of where to spend the holidays. One spouse's parents always spend Christmas around a large table with family members who have traveled from near and far. The other spouse's parents may have traditionally shared a meal while traveling to a warmer climate. Options may also include whether you spend time with each of two divorced in-laws.
What Is Important?
As a couple, remember what is most important. One way to think about it is to ask yourself what you hope to accomplish during the holidays. List everything that you hope to do.
What do you want to have for yourself at the end of the holiday season?
Would you like to experience peace, joy, connection, love?  
What will help you reach your holiday goals?
Love 'does not dishonor others, it is not self-seeking, it is not easily angered' I Corinthians 13:5 (NIV)
Most of the answers to the questions above do not have the primary purpose of your holidays as "making my parents happy." Give yourself permission to not make your parents and in-laws happy. Including their input in your decisions is important, but it should not be the primary driver of your decision making process.
Deciding Where To Spend The Holidays
Listen to your spouse. Have a conversation about what it is that your spouse wants to have happen for the holidays. Listen about what is important to them and why.
Discuss new traditions. As a couple and perhaps a young family, what new tradition can you create together? Share how will you put your values into the holiday happenings?
Receive input from in-laws. Collect information about the holiday plans of your parents and in-laws. If their plans are fuzzy, it is ok. Find out if they are planning to do what they usually do and you can nail down the details later.
Consider all upcoming holidays. You may not be able to make it to everyone's house for Thanksgiving. Consider how you will spend Christmas and New Years. Creatively think about the next set of holidays and what can be planned today for future holidays.
Collaboratively make a decision. Both of you being on the same page about the decision and not blaming the other spouse for the decision is vital. Presenting a "united front" when talking about it to all the other relatives is very important.
Review the decision. As the holidays wind down, review the decision and how the holidays worked for your relationship goals. What needs to change, if anything?
What We Do
You may be interested to learn what we did to make this important decision. It has worked for us and it may work for you. Whatever you choose, make it a joint decision!
Before we had kids, we usually spent part of each holiday with each sets of parents. This became difficult once we had little ones. We decided together to spend Thanksgiving with one set of parents and Christmas with the other. The following year we would switch them. So every other year, we would schedule our holiday plans around the one that it was assigned.
If we could make an appearance at the other, we would. For instance, sometimes we celebrated a late Christmas with the set of parents that it wasn't their year. Sometimes, New Years ended up being a trip to the other set of parents for Christmas with them.
No matter which set of parents we spend Christmas with, our family tradition includes the four of us opening presents together. The night before (even if it is a few days ahead of Christmas), everyone gets to open a present each, which is a new set of pajamas. We spend the night doing something fun together. The next morning is Christmas. Stockings are full and our personal family presents are opened. We always build time after opening presents for us to enjoy a meal together before any traveling.
What do you have to say?
We love to hear from readers.  Do you think holidays are more stressful than other times of the year?  What are some of your personal and relationship goals for the holidays?  What do you think about our list of how to decide?  How do you handle the in-laws during the holidays?  Do you have additional advice for couples like Shannon and Katie?
This article was written by Roy and Devra Wooten, authors of "The Secret to a Lifetime Love". Learn more at www.LifeTogetherForever.com © Roy and Devra Wooten 2015. All Rights Reserved. You may replicate this article as long as it is provided free to recipients and includes appropriate attribution. Written permission for other use may be obtained at Secret@LifeTogetherForever.com.