The communication struggle that you may find yourself in is probably like well-worn ruts in a road. Your efforts to try to drive out of the ruts or keep from falling back into them will be frustrating. Learning new things always creates some discomfort at first but eventually, with practice, we learn to do it without much effort. Learning to Speak the Truth to each other will be difficult, but very rewarding.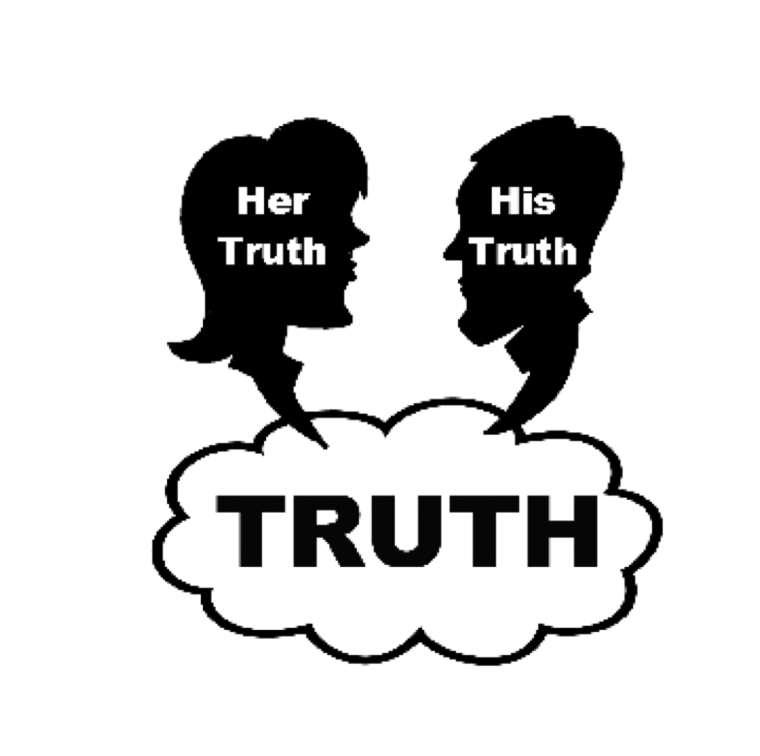 We have witnessed Speaking and Hearing the Truth significantly change relationships. Couples arguing over money, parenting, sex, in-laws, chores, recreation, faith, and other areas have significantly increased their marital satisfaction and intimacy by following the rules of Speaking and Hearing the Truth.
Change is hard!
Lisa and Jimmy grew up in the same town, going to the same schools and the same church since they were born. They were in a serious relationship as she completed high school and left for college. Jimmy, who was a couple of years younger, asked her to marry him and gave her a Promise Ring just a couple of months into her college years. They were married just after his graduation, before he left for Air Force boot camp in San Antonio.
During their first several years of marriage, Lisa and Jimmy experienced a great deal of struggle. Between his absences for deployment and their multiple re-locations, they were unable to find a positive rhythm of interacting. A pastor referred them to us, and when Lisa called to make the appointment, she began the conversation by telling us, "I don't think I ever really knew Jimmy. I thought I knew him, but he is not the man I thought he was."
Jimmy and Lisa assumed that because they had been raised in the same town, going to the same church and schools and dating only each other, they knew everything there was to know about each other. When they were able to spend time together early in the marriage, they would act on the assumption that they knew what the other person really wanted. When their spouse did not do what they expected them to do, each thought they knew with certainty the reason why. It seemed that every area of their marriage was in conflict within just a few short months.
Couples arguing over money, parenting, sex, in-laws, chores, recreation, faith, and other areas have significantly increased their marital satisfaction and intimacy by following the rules of Speaking and Hearing the Truth.
She wanted to start a family soon, and he wanted to wait until his military commitment was completed. She believed that they should share responsibilities inside and outside of the house, while he thought his domain should include vehicle repairs, lawn work and household repairs, and that she should do all of the other chores. She thought taking care of her husband's sexual needs should not ever need to be more than once every week to ten days, while he assumed that they should have sex every night unless one of them was sick or otherwise unable. He understood that they should spend any bonus money as they received it because he worked hard for the money; she thought that they should plan for the future and for emergencies by always putting some or all of his bonuses into savings.
Their differences of opinion about chores, sex, when to start their family, how to handle their finances, and many other issues were not the problem in their relationship. Their problem was that they did not realize how each of their individual truths was not shared by the other, and in the absence of that knowledge they were taking action on their assumptions (their truths). This was damaging their relationship. They were not only not speaking their truths to each other; they were also unable or unwilling to really hear the truth of the other person.
We are happy to report that Jimmy and Lisa are doing well together. They spent a day with us in a Marriage Intensive and developed a plan for speaking and hearing each other's truth. The plan included specific appointments to address each of their concerns one at a time. They had crucial conversations regarding when to start their family and how to handle finances. As they resolved each issue, they found themselves in a pattern of positive interaction and beginning to really like each other again. Jimmy and Lisa did the hard work of learning the skills we are sharing in this book, and it paid off in a marriage that is more committed — and in a relationship with a higher degree of intimacy than either had ever imagined! 
Find out the rules for Speaking and Hearing Truth in the Amazon Best Seller, The Secret to Lifetime Love. This post was excerpted from The Secret to Lifetime Love.
What do you have to say?
We love to hear from readers. What other suggestions you would add to this article? Do you know someone you need to forward this article to?
This article was written by Roy and Devra Wooten, authors of "The Secret to a Lifetime Love". Learn more at www.LifeTogetherForever.com © Roy and Devra Wooten 2017. All Rights Reserved. You may replicate this article as long as it is provided free to recipients and includes appropriate attribution. Written permission for other use may be obtained at Secret@LifeTogetherForever.com.