Todd believed he was gifted with insight about other people. He was a "quick read" of people and could identify their flaws easily. When Rochelle and Todd first met, she was impressed with him and loved the funny comments about others that they had just met.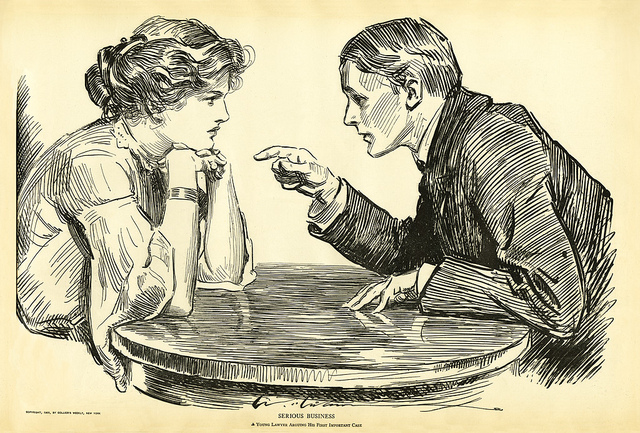 Once they began their life together as a married couple, Todd's gift of insightfulness felt much more like criticism to Rochelle. She felt like his humor felt like sarcasm. His "quick read" abilities felt like he was always telling her what she was thinking and was unable to listen to what she was trying to communicate about herself.  They called us for a Marriage Intensive.
"If you judge other people, then you will find that you, too, are being judged. Indeed, you will be judged by the very standards to which you hold other people. Why is it that you see the dust in your brother's or sister's eye, but you can't see what is in your own eye? Don't ignore the wooden plank in your eye, while you criticize the speck of sawdust in your brother's eyelashes. That type of criticism and judgment is a sham! Remove the plank from your own eye, and then perhaps you will be able to see clearly how to help your brother flush out his sawdust.' Matthew 7:1-5 (VOICE)
You Spot It, You Got It
Like Todd, all of us judge others. It is how we determine if someone might be safe or dangerous. Most of us rarely speak our judgments of others to them. We use discretion and only speak our judgments to our friends, co-workers, or family.
What scripture and science agrees on is that we usually judge people out of something that we have experience with. Our judgment about the bad driver who just cut us off is recognized easily by us as we have also been a driver who has cut someone off. In most cases, the reason I judge someone about something is that I have or am also someone who does the same thing in some way.
When it comes to your spouse whom you love you so much, what you see in them that you are so critical of and that you judge them about usually is something within you that you do not like about yourself. Your spouse becomes a mirror upon which you see yourself.
Your spouse is a beautiful gift because they show you things about yourself that you did not know.
The close living nature of a long term committed relationship means that you are more like to speak those judgments to your spouse. When you do, it sounds like criticism and sarcasm and causes pain in your spouse.
What To Do When You Judge My Spouse
Every spouse judges their spouse. Here's what to do when you feel yourself judging your spouse in an accusatory way.
Clarify Your Judgment – There is a reason your spouse's behavior is bothering you. Ask yourself, "what kind of person does such a thing?" Try to get it to a clear judgment of "my spouse is a ____________".
Test Your Feelings – Check In with yourself. When you experience your spouse in that judgment, what do you feel? Sad? Angry? Scared?
Do A Mirror Test – Your clean judgment that you have about your spouse is something that you may not want to admit is also true about you. Ask yourself, "how is my spouse being a mirror for me in this judgment?"
Address The Issue – Use the Complaint Formula to communicate to your spouse what you experienced of their behavior, how their behavior impacted you and what you specifically want them to do or not do going forward.
Love Beyond The Moment – This is not the entire relationship, but rather a bad moment during the relationship. It is a moment that can lead to more pain, or movement toward each other into deeper closeness. Think long term and lead with love toward your spouse.
What do you have to say?
We love to hear from readers.    What other suggestions would you add to our recommendations??  If you tried any of these suggestions, how did it work out for you? Do you know someone you need to forward this article to?
This article was written by Roy and Devra Wooten, authors of "The Secret to a Lifetime Love". Learn more at www.LifeTogetherForever.com © Roy and Devra Wooten 2016. All Rights Reserved. You may replicate this article as long as it is provided free to recipients and includes appropriate attribution. Written permission for other use may be obtained at Secret@LifeTogetherForever.com.