Check out the online reviews of "The Secret to Lifetime Love" (2014, Jaba Publishing).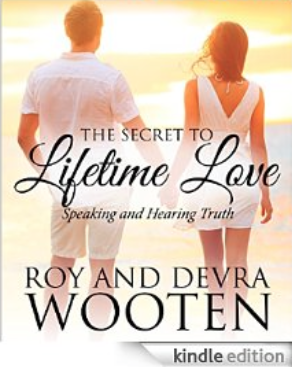 A Healthy Shot in the Arm for Our Marriage.
By Leslie Herron
"We have been married for almost 30 years and are doing well. This book isn't just for those who are struggling in marriage. It is also for all of us who need constant stretching and working out to keep our hearts and our marriages in shape. Roy and Devra have an open and fun style of communicating what is really going on in our marriages and how we can mend broken areas, as well as strengthen weak areas."
Great, practical stuff!!
By Byron Myers
"This a great, practical book on communicating clearly. Roy and Devra do a great job of simplifying how to communicate better with your spouse and live free from barriers that damage marriage. Thank you Roy and Devra for living an example for other marriages and sharing with us new tools."
There are few gems like this
By monika
"There are few books out there that really help you, and seem to really want to help you with your problem (relationships in this case) and this book delivers."
Concise and Practical
"This book contains a plethora of wisdom about how to deal with inevitable conflict in marriage. Concise and practical, it is well worth the short time required to read it, and a great reference when preparing for important conversations in any relationship. Very insightful and compelling!"
If the marital conflict seems never-ending…..
By Charles
"If you and your spouse can't seem to talk without losing control, or if one of both of you tends to stamp out of the room before any decisions are reached — this is the book that will help you. Clear explanations of the origins of conflict, and even clearer techniques and plans to overcome it, come to an understanding, and rekindle the love you once felt for each other — even on the most difficult subjects, and even when all hope seems lost. The Wootens have helped thousands find their way back to a lifetime love, and they can help you too!"
Hearing the truth…
By Tia
"What a great book for improving communication in your marriage! The information covered in this book is easy to relate too. At times, I felt as if they had stood in my living room and heard the arguments. I never felt judged or shamed. Positive and encouraging to husbands and wives! A rare find."
Must have for married couples
By Austin Durango
"This book can be your go-to guide on how to fix, restore, or improve your marriage or relationship. All married couples should have it!!!! Very helpful!"
Every couple should read this!
By Kari Ann
"I always have said that a relationship is like a job and it needs to be worked everyday to keep it up. YET after reading this I see some of the mistakes I myself am making. The statement "We Want to Be Heard But We Forget Our Spouse Wants to Be Heard Too" really resonated with me because I think a lot of use forget this sometimes and think our spouse is not listening when maybe we are not listening. I really enjoyed this book and will keep it to read every once in awhile to remind myself. Its not always pleasant hearing the truth but its necessary for a relationship to work. Read this and have your other half read it as well."
A very truthful and realistic book
By ZRM
"You have so many books out there that profess to be able to tell you how to create real love and how to have lasting relationships. Most of the information that I have gotten from these books seems so contrived. There's always a technique or a new system that is supposed to lead you to a long term relationship. I have always found these particular concepts to be manipulative at best. So it's refreshing to have a book that actually deals in what is real about relationships and helps you to see what really is truth about relationship. If you're a person who is having trouble with relationship this book can be as helpful as therapy and the results are actual. I applaud the author for writing such honest information about relationships. It's refreshing, useful, and absolutely helpful. I highly recommend this book. There is definitely much benefit that you can get from reading it."
Love and Respect
By Julia Busch
"Mind set is everything in life and particularly so in close relationships where ones own issues come to the fore. Personal stumbling blocks added to different backgrounds, family upbringing, and personal expectancies from, and within, a relationship can create blockades in communication that, with the right approach on both sides, can be dissolved to create a marriage that can evolve beyond your most desired expectations. Written for couples in significant other or married status, the information, attitudes, and thought provoking dialogues in this well presented message can be applied to any relationship… issues in the workplace, with siblings, children… Highly recommended."
This book will help you in communicating better in your relationship
By Dave Lappin
"This book provides methods of improving communication within a marriage. If you put these methods into practice, you will only improve and resolve conflicts you have in communicating with your spouse."
Excellent book about couple
By Steve Bureau
"I bought this book in a very important moment in my life. Our married life is not going very well. With three quarters of the book read, I see many solutions that I can apply. This book is very well written and very realistic."
The Secret to Lifetime Love, (Jaba Publishing, Jan 2014) is available in print, ebook and audio editions.