We are so thankful for those who've served our country, and freedom loving people all over the world, in freedom's cause. While military personnel are away from home, spouses and children sacrifice in their absence. We are thankful this Veteran's Day for the services of Military Personnel and Veterans and the sacrifices that their spouses and families have made.   We also pause in remembrance of those who lost a loved one or those who were injured in their service.   Thank you!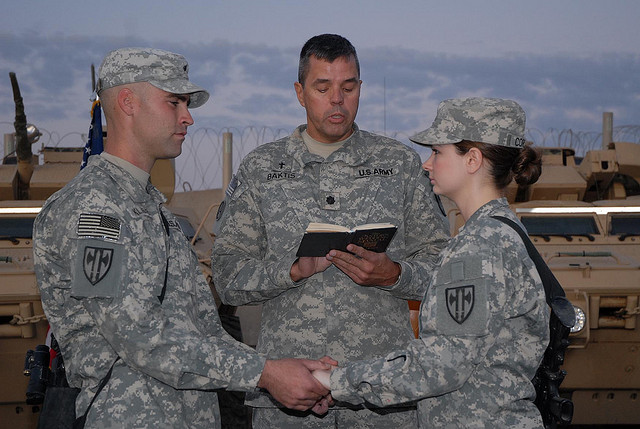 'Greater love has no one than this, that he lay down his life for his friends.' John 15:13 (NIV)
Sacrifices Continue for Post-911 Veterans
In our work with couples, we have witnessed the ongoing sacrifices of too many post-9/11 couples and families. According to a study released by the Pew Research Center, veterans of the Afghanistan and Iraq war have special challenges.
They have a higher divorce rate than veterans of prior wars.
The divorce rate among officers is about the same as the general population, but among enlisted is more than double officers' rate.
While the divorce rate among the general population has leveled off, the divorce rate among post-911 veterans has more than doubled over the last ten years. 
Why Are Veterans Marriages Failing?
In addition to the difficulties in which all couples find themselves from time to time, veteran couples have special stressors that are different than most of ours.
The first 90 days transitioning out are incredibly stressful as veterans tend to focus on their career, housing, etc. instead of their relationship.
Redefining roles within the family creates a flash point of contention.
Each spouse has changed during deployments, yet they tend to treat each other as if they were the same when they left.
The effects of trauma and war's impact on fellow service personnel complicate re-connection. Depression, post traumatic stress disorder and anger outbursts are too often a part of new barriers to a strong marriage.
What Helps Keep Post-911 Veterans' Marriage Strong?
Christians who surround themselves with other couples who value marriage. Couples who strive toward a relationship with God and are involved in a local church with other marriage valuing couples are less likely to divorce than couples who do neither.
Marriage Workshops and Retreats – According to Dr. Scott Stanley, Director of the Center for Marital and Family Studies at University of Denver, couples who completed a relationship education program were 300% less likely to be divorced than their counterparts who did not complete such training.
Investing in professional relationship help – veterans who invest in professional relationship help, like the Marriage Intensive, when they begin to struggle are more likely to retain their marriage.
Focusing on the Relationship. Couples who are intentional about strengthening their relationship in the rushed transition to civilian life are more likely to maintain their marriage.
We are so thankful for all Veterans and their families. May God bless you in your relationship with Him and may He bless your marriage and family!
What do you have to say?
We love to hear from readers.  What are you doing to honor veterans this Veterans Day?   How can you help strengthen a veteran's marriage?  If you are veteran, what would you add?
This article was written by Roy and Devra Wooten, authors of "The Secret to a Lifetime Love". Learn more at www.LifeTogetherForever.com © Roy and Devra Wooten 2015. All Rights Reserved. You may replicate this article as long as it is provided free to recipients and includes appropriate attribution. Written permission for other use may be obtained at Secret@LifeTogetherForever.com.