It seems like the definition of what it means to be a good husband keeps morphing over time. What was once heralded as good is now looked upon as being controlling or inadequate.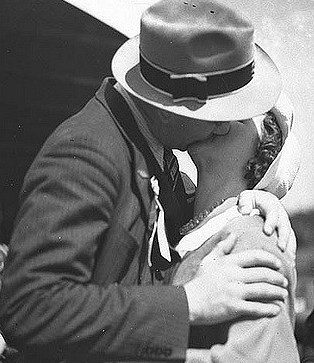 We believe that when a man seeks to marry, he wants to be a good husband. But too often he is ill equipped to be all that his spouse needs and wants. And it is unrealistic to meet a moving target of what it means to be a man, much less, a husband.
1950's Assessment of What It Means To Be A Good Husband
Dr. George Crane published a test for husbands in the 1950s. Here are some of the items on the list:
Positive Attributes:
Ardent lover – sees that wife has orgasm in marital congress.
Tries to keep wife equipped with modern labor saving devices.
Gives wife ample allowance or turns pay check over to her.
Interested in athletics.
Willing to shopping with wife.
Neat in appearance – shoes shined, hair cut, suit pressed.
A fast and efficient worker, not that puttering sort.
Willingly prepares own breakfast.
Well liked by men, courageous – not a sissy.
Eats whatever is served to him without grumbling or criticism.
Gives wife real movie kisses not dutiful "peck" on the cheek.
If wife is ill, phones from work to inquire about her.
Negative Attributes:
Dislikes children, or scolds them too harshly.
Stares at or flirts with other women while out with wife.
Compares wife unfavorably with mother or other wives.
Publicly praises bachelor days and regrets having married.
Fails to bathe or change socks often enough.
Picks teeth, nose or sucks on teeth when in public.
Blames wife for everything that goes wrong.
Angry if newspaper is disarranged.
Talks of efficiency of stenographer or other women.
Teases wife regarding fatness, slowness, etc.,
Too much a bookworm – doesn't talk to wife enough.
Modern Definition Of A Good Husband
Hopefully we have moved past those definitions today. But when we searched for current lists, here's what we found. Hubpages.com came up with a list of qualities to be "the perfect one".
Be Pleasant
Respect The Vows
Reliable, Responsible and Supportive
Adaptability and Sensitivity
Show Respect
Judgment and Emotional Baggage
Communication
Love and Affection
Offer Protection
Give Her Space
Keep Her Happy In Bed
'Husbands, you must love your wives so deeply, purely, and sacrificially that we can understand it only when we compare it to the love the Anointed One has for His bride, the church. We know He gave Himself up completely to make her His own, washing her clean of all her impurity with water and the powerful presence of His word. He has given Himself so that He can present the church as His radiant bride, unstained, unwrinkled, and unblemished—completely free from all impurity—holy and innocent before Him. So husbands should care for their wives as if their lives depended on it, the same way they care for their own bodies. As you love her, you ultimately are loving part of yourself (remember, you are one flesh). No one really hates his own body; he takes care to feed and love it, just as the Anointed takes care of His church, because we are living members of His body. "And this is the reason a man leaves his father and his mother and is united with his wife; the two come together as one flesh." There is a great mystery reflected in this Scripture, and I say that it has to do with the marriage of the Anointed One and the church. Nevertheless, each husband is to love and protect his own wife as if she were his very heart, and each wife is to respect her own husband.' Ephesians 5:25-33
Be The Best Man You Can Be
Being a good husband begins with being the best man we can be. A good husband continues to grow into what it means to be like Christ. We grow in our relationship with God and continue to work on being the man God built us to be.
Be Safe
Being a good husband means being the type of man that creates safety in his home. It means being honorable and trustworthy. It means doing what we say and living by what we expect her and others in our home to do. It means that we are reliable.
Be Committed
Being a good husband means maintaining our cognitive desire to be committed to her and our wedding vows. It means knowing that there is hardly anything that we cannot work through together. It means always moving toward our spouse, even if that means telling on our self.
Be Connecting
Being a good husband means connecting with our wives on an emotional level. It means trying to understand what is going on in her head and heart, without offering "fix" it advice. It means being open about what is going on in our head and heart so that she can feel connected to you.
Be First
Being a good husband means making the first move to overcome challenges in the marriage. It means offering an apology first. It means investing in meeting her needs first, instead of waiting on her to meet our needs first. It means accepting responsibility for the state of our marriage and taking action to create the marriage God intended for us.
Be Passionate
Being a good husband means connecting with our spouse physically. It means moving to meet her stated physical needs in the ways in which she makes known. It means having conversations outside of the bedroom about our sexual life so that we can both meet each other's sexual needs.
What do you have to say?
We love to hear from readers. Do you agree that the definition of what it means to be a good husband is a moving target?  What would you add to our suggestions about what it means to be a good husband?  Do you know someone you need to forward this article to?
This article was written by Roy and Devra Wooten, authors of "The Secret to a Lifetime Love". Learn more at www.LifeTogetherForever.com © Roy and Devra Wooten 2016. All Rights Reserved. You may replicate this article as long as it is provided free to recipients and includes appropriate attribution. Written permission for other use may be obtained at Secret@LifeTogetherForever.com.