We recently celebrated our twenty-eighth wedding anniversary! It's hard to believe that we met and started dating thirty-four years ago. We have done a lot of life together!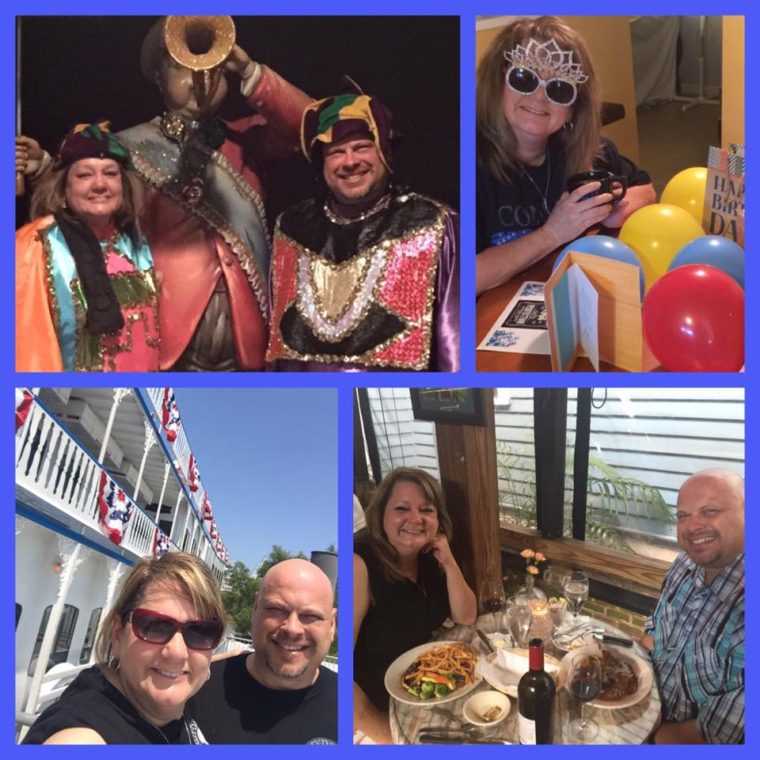 Unlike most of our blogs, this one is a glimpse into our personal life and the celebration of our twenty-eighty wedding anniversary. We hope by sharing you will be inspired to create your own unique and fun wedding anniversary.
Each Wedding Anniversary Is Unique
Each wedding anniversary is different. Some years we were very connected and things were strong between us. Other years we were so busy with careers and raising kids that we were not very deeply connected. Some wedding anniversaries fell on dates when one or both of us were between jobs. Other wedding anniversaries happened amidst medical issues for ourselves or one of our family members. Sometimes our wedding anniversary fell around the time we were grieving the passing of a loved one.
We have always done our best to protect our wedding anniversary date so that we could be available to each other. A few wedding anniversaries we were unable to be together face-to-face. So we had to plan another date in the calendar to celebrate our anniversary.
Our Twenty-Eighth Wedding Anniversary
This year we were both out of town in different locations for our twenty-eighth wedding anniversary. Devra was in Lubbock celebrating the graduation of one of our closest friend's daughters from Texas Tech. Roy was on Lake Geneva north of Chicago leading a men's Crucible Weekend.   So we had to plan another date to celebrate.
We had never been to New Orleans. Devra's birthday was around the corner and she had a desire to celebrate our wedding anniversary and her birthday with a trip to the Crescent City. We were looking forward to touring historic buildings and plantations.
Wedding Anniversary In New Orleans
When we were packing, we decided to dress comfortably except for one meal.  We found that we had the same t-shirt for every day of our trip.  So when one of us was separated from the other, we just asked people around us if they had seen someone in that same shirt.  It worked!
Thursday
Friday
Saturday
Sunday
'For where two or three gather in my name, there am I with them." Matthew 18:20 (NIV)
Monday
Our Recommendations For Your Wedding Anniversary Trip
If you are looking for a place to stay, check out AirBnB options. You can use this link and get $30 off your first stay.
Parking can be expensive. We parked for free and used Uber to get around. If you click this link, your first Uber ride is free.
Focus on your spouse's desires and plan the trip that we will most memorable for them. Make room to tolerate their favorites and enthusiastically participate. Your spouse will be more likely to return the favor when you ask for them to do the same for your favorite thing.
Trips in nature can be just as fun and relaxing as urban trips, so don't forget about a trip to the beach, mountain, island, lake or river.
Have a budget and stick to it. Find the free stuff. Use coupons.
Ask the locals. We visited with several Katrina survivors who now live in Houston who made recommendations for us before we left. When in New Orleans, we asked the locals about their dining recommendations.
What do you have to say?
We love to hear from readers. How have you celebrated your wedding anniversary?  What did you like about our wedding anniversary celebration and what would you have changed? What recommendations for a wedding anniversary would you add?  Do you know someone you need to forward this article to?
This article was written by Roy and Devra Wooten, authors of "The Secret to a Lifetime Love". Learn more at www.LifeTogetherForever.com © Roy and Devra Wooten 2016. All Rights Reserved. You may replicate this article as long as it is provided free to recipients and includes appropriate attribution. Written permission for other use may be obtained at Secret@LifeTogetherForever.com.