James and Cindy spent a day with us in a Marriage Intensive recently working on a fragile marriage. James has a job that requires about 50% travel.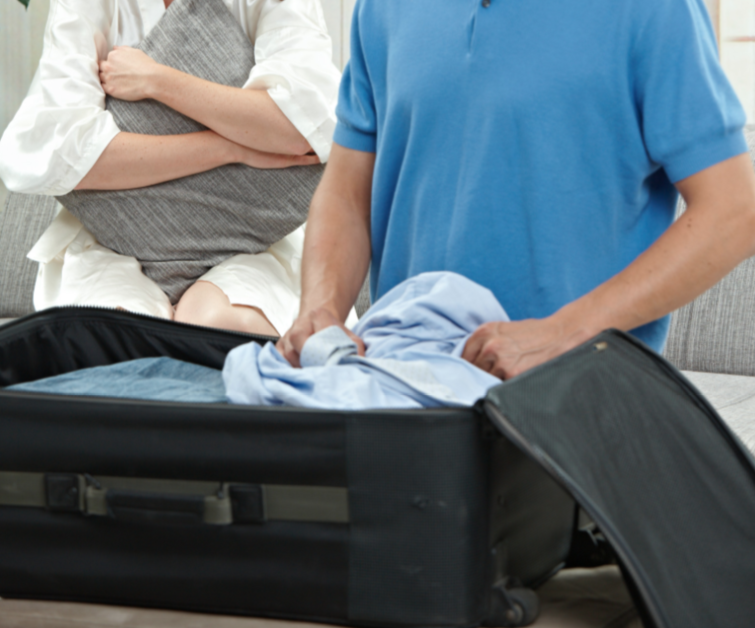 "I don't mind that he needs to travel for his job or that he is gone for three and four days at a time. What bothers me so much is that when he is here her doesn't notice that I am around. The worst part about it is when he is about to leave. He is always in a hurry and we end up in an argument as he blames me as he leaves the house." Cindy said.
Departure Stress
Cindy is not the only one who feels this way.
For almost all traveling spouses, the time just before the departure is a stressful time for travelers, spouses and children. Each spouse anticipates the impending departure and focuses, sometimes unconsciously, on their separate agendas. The travelers spouse begins busying themselves as a way to deal with the discomfort of departure stress.
Travelers express departure stress by not listening well as their mind is on the task of final packing and the details of their departure. They frequently are not present for their spouse in any way.
During the period of departure stress, tension increases rapidly. Too often buried feelings erupt just prior to leaving the home. The issues at the house, including honey-do lists and other obligations, do not disappear just because the traveling spouse is out of the home.
"I hate the way we almost always have so much drama every travel day," James explained.
Departing Well
While both spouses contribute to the problem, here are our recommendations for being intentional about planning better departures.
Re-enter Well – Leaving for your next trip actually begins when you enter from your last trip. Use the first 24 hours to reconnect emotionally and physically with your spouse.
Detailed Itinerary – The traveling spouse will reduce overall departure anxiety if a detailed itinerary is provided to the spouse weeks before the planned trip.
Courageous Conversations – Issues that are happening in the marriage need to be addressed well before the day to leave. Set up a time between trips when each spouse can have the courageous conversation they need to have about any ongoing or new issues in the marriage.
Pack A Day Early – Don't leave packing to the last few hours. Pack a day early so that you can focus on your spouse and children in the last several hours.
Invest In Your Relationship – Between trips, schedule time to connect in a positive way with your spouse. Go on a date, or just carve out time to sit face to face for a few uninterrupted hours around the house.
Be Present – When with your spouse, put away your cell phone, skip sitting in front of the television, put down your device and be present with them. You will have time to catch up on your social media feed or television show when you have down time while you are away.
Prioritize Family – Some dates are important enough to not be away from your spouse on. Have a conversation about your spouse's calendar priorities and make sure you do your very best to honor them.
While Away – Make connecting with your spouse a priority. Use the Daily Check In to help your spouse communicate how their day was and share about your day, even the boring details.
Pray Together – While in the home and away, spend time praying with the one you love you the most. Invite God into the daily details of your life.
'But encourage one another daily, as long as it is called "Today," so that none of you may be hardened by sin's deceitfulness.' Hebrews 3:13 (NIV)
What do you have to say?
We love to hear from readers. How have you celebrated your wedding anniversary?  What did you like about our wedding anniversary celebration and what would you have changed? What recommendations for a wedding anniversary would you add?  Do you know someone you need to forward this article to?
This article was written by Roy and Devra Wooten, authors of "The Secret to a Lifetime Love". Learn more at www.LifeTogetherForever.com © Roy and Devra Wooten 2016. All Rights Reserved. You may replicate this article as long as it is provided free to recipients and includes appropriate attribution. Written permission for other use may be obtained at Secret@LifeTogetherForever.com.