Mark Batterson captures the essence of an incredibly brief story about Benaiah in 2 Samuel 23:20-21 with his book "In a Pit With a Lion On a Snowy Day". Benaiah was one of King David's right hand men. But earlier in his story, he chased a lion during a snow storm into a pit and lived to tell about it.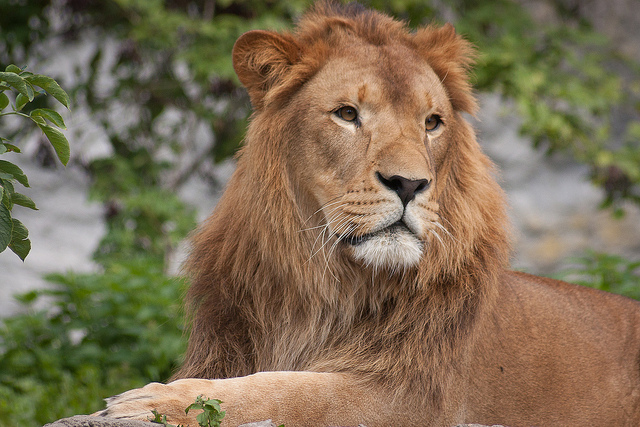 "Benaiah son of Jehoiada from Kabzeel was a vigorous man who accomplished a great deal… on a snowy day, he climbed down into a pit and killed a lion." 2 Samuel 20 (Message)
According to Batterson, Benaiah was provided an opportunity to protect himself and his tribe. Instead of doing what made sense, doing something safe and easy, he did the hard thing. He went after the threat to his tribe. He took the fight to the threat instead of worrying and waiting to see if what he feared would kill his tribe.
We do not know much about Benaiah, but because of his faith in God and his incredible courage, he chased a lion into a pit and came out the victor. Because of it, King David gave him a promotion to chief in his army. He received everything that he wanted, in fact more than his heart's desires, because he chased the lion threatening his whole world. 
What Are The Lions In Your Marriage?
If you are like us, you only see lions when you visit the zoo or circus. Lions are always under control and we are safe from their vicious power.
But if you are like us, you have some lions in your life. Lions that represent what you fear. Lions that represent a threat to your world as you know it. And if you are honest, you can probably identify a couple of marriage lions, fears and threats to you marriage.
What is your marriage lion? What do you fear? Where is the threat to your marriage? What might do it in?
Courage to Chase Your Marriage Lions
Like Benaiah, you have a choice to make. You can observe the threatening lion and hope that something happens to make it go away. You can see the threat and let fear paralyze you as you watch your marriage disintegrate. You can notice the fear inside of you and let it keep you blaming your spouse or others for the problem.
Or you can, like Benaiah, see and face your fear, and do something to end the threat once and for all.   You can step into your fear, stretch youself, and boldly go where you nor your spouse has ever gone before. You can do the thing that is hard, instead of the easy thing. You can move toward creating the marriage that you want in your heart of hearts.
The lions in your marriage are not going away. They seek to devour you and your life. Waiting is inviting the end. Stop waiting. Chase the lion in your marriage and eliminate that threat in your marriage.
If you need help deciding what action you need to take that would accurately fit "chasing" the lion in your marriage, give us a call at 281-949-8115 and we'll attempt to help you figure it out. It is finally time to do something about that lion, don't you think?
What do you have to say?
We love to hear from readers.  What are the lions in your marriage?  In what ways are your marriage threatened?  What do you fear most in your relationship.  What other suggestions you would add to our suggestions in this article? Do you know someone you need to forward this article to?
This article was written by Roy and Devra Wooten, authors of "The Secret to a Lifetime Love". Learn more at www.LifeTogetherForever.com © Roy and Devra Wooten 2016. All Rights Reserved. You may replicate this article as long as it is provided free to recipients and includes appropriate attribution. Written permission for other use may be obtained at Secret@LifeTogetherForever.com.