Robert Cossick dropped by our Cypress, Texas offices recently to introduce his company, Battle Cries, to us. After working with men in CorporateUSA who were blowing up their marriages for a number of years, he wrote the book, "For The Honor Of The Vow".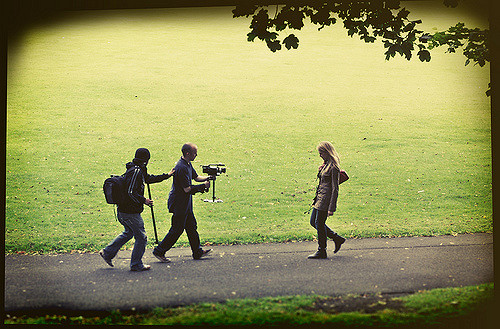 Like Robert, we have discovered at the very core of most marriage crises is a fundamental question:
Do you really want a better marriage?
The primary reason we ask this question so frequently of spouses seeking our counsel is because they are engaged in activities that do not reflect that they have a desire for a better marriage.
The VIDEO CREW Test
Check yourself first. What if a video crew had followed you around, unknowingly, all last week. They were able to capture all of your moments with and without your spouse. Every interaction with every person. And everything that you said and did, when you were with others and when you were alone.
What would the video footage from last week's video crew show about your WANTing a better marriage?
Would you see yourself engaged in activities that moved you toward your spouse?
Would you witness yourself engaging in direct and healthy communication?
Would you notice that you were defensive at every turn, not accepting any responsibility for the any of the problems in your marriage?
Would you observe that you were critical of your spouse, to them or perhaps to others?
Would you discover that you spent time trying to stay away from your spouse, using stonewalling, silent treatment and your devices to hide away from your spouse?
Would you find yourself putting others, even virtually, in a place that is only reserved for your spouse?
If you really want to have a better marriage you will do whatever it takes for as long as it takes to create the marriage that you truly want.
You will do whatever you really want in your heart of hearts. You cannot state that you want a better marriage and do nothing that builds the marriage that you say you want. Stating you want a better marriage and waiting on your spouse to make it so is a plan for failure and disaster.
'… God was there as a witness when you spoke your marriage vows to your young bride… your covenant wife. God, not you, made marriage. His Spirit inhabits even the smallest details of marriage. And what does he want from marriage? Children of God, that's what. So guard the spirit of marriage within you. Don't cheat on your spouse.' Malachi 2:14-15
What do you have to say?
We love to hear from readers.  Do you believe this is the best single question to ask a spouse who is seeking help for their marriage?  What do you think about the Video Crew test?  What will you do this week to make your marriage stronger and move toward your spouse?  What other suggestions you would add to this article? Do you know someone you need to forward this article to?
This article was written by Roy and Devra Wooten, authors of "The Secret to a Lifetime Love". Learn more at www.LifeTogetherForever.com © Roy and Devra Wooten 2016. All Rights Reserved. You may replicate this article as long as it is provided free to recipients and includes appropriate attribution. Written permission for other use may be obtained at Secret@LifeTogetherForever.com.