What is a Crucial Conversation?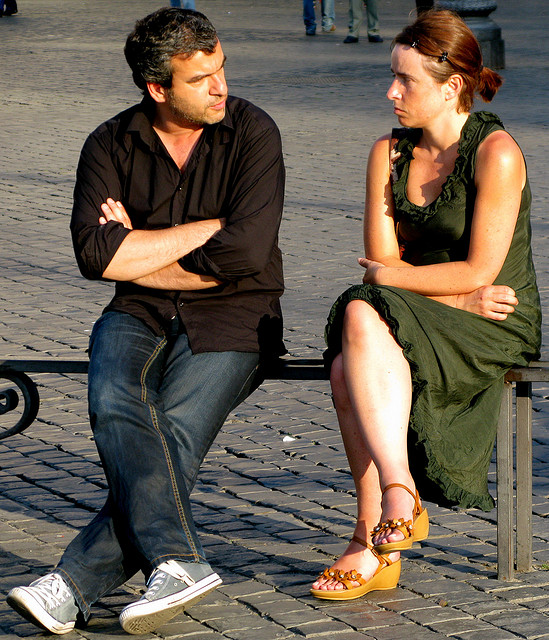 A crucial conversation is a conversation that has a high degree of probability that it will involve emotions. Some conversations do not involve emotions and are not emotional. However, when you think you might be triggered emotionally when talking about the conversation, or when you think your spouse might be triggered when having the conversation, the conversation is a crucial conversation.
It is crucial because if they have the conversation, it might lead to high emotions which may result in damage to the relationship. It is also crucial because if there is no conversation, not resolving the issue will lead to further disengagement. This will lead to damage in the relationship.
Crucial conversations happen when spouses care enough to say what they are afraid to say. When they work through fear and run toward- not away from the problem they need to discuss. They are then ready to have a crucial conversation that will likely strengthen the relationship and help each other move forward in a positive way.
Crucial Conversation Rules
Pray
When we are about to do something of high importance in our lives, we usually take time to get in touch with the creator and source of all life. We pray for courage to have the conversation and for openness in receiving it.  We pray for God's guidance and wisdom in how to move forward and God's healing hand on our hearts and our marriage. We are intentional about praying for God's presence and purpose in our lives.
Know What You Want
We have had too many couples visit with us about their marriage problems who replay a horrible experience while trying to talk about the thing they have been afraid to discuss. Usually what they report is how each of them described (with great blame) what the other person had done wrong. If your goal is to make sure you spouse knows what they did wrong, you are not going to have a successful crucial conversation. Instead you are going to have a blame session.
If your goal is to make sure your spouse knows that you are right and they are wrong, you are not going to have a successful crucial conversation. If your goal is to somehow make your spouse hurt at the same level that you have been hurt, you are not going to have a successful crucial conversation.
After you pray and before you do anything else, make sure you know what you want out of the conversation. What is your goal for the conversation?  How does that goal line up with your goal of doing life together forever?  Know what you want to happen on the other side of the conversation.
Practice on Paper First
After you know what you want, you will do well to spend some time practicing the conversation on paper. When you write it out, you will be able to see what you are saying. Writing it out will also allow you to rephrase things so that you can choose the best words so that you don't accidentally trigger your spouse.
Writing out what you are thinking can help you take the emotion out of the conversation. If you write it and cry while you read and write it, you will probably experience less emotion when you actually have the conversation. This will help you be understood more clearly. Things do not always go as we plan them, but if you write out what you need to say then you will be prepared to stay on track with the goals of you crucial conversation.
Consider Any Need for Support
We remember a Marriage Intensive with a soldier and his wife. We took them through a process where she was finally able to tell him how she feels like his mother tries to run her and the children's lives when he is deployed in Afghanistan. As he listened, it became apparent that he was totally unaware of the very thing that she had been afraid to talk to him most about. As they were hugging after he promised to jointly set a boundary with his mom, she said, "You know I've tried to bring this up from time to time, but you always run out of the room yelling at me. I'm so glad you stayed here and we actually got this solved."
He was surprised she had ever brought it up before. And as she begin to tell him about one of the times she brought it up it was apparent to all of us that she was beginning with criticizing him which led to his stonewalling and leaving.
We share this because it is so important for you to consider some support.  If you and your spouse have a history of getting loud or leaving before getting issues resolved, it might be a good idea to invite someone else into your crucial conversation. If you think you or your spouse might not feel safe, it might be good to invite someone else into your crucial conversation.
If you choose to consider someone, let us encourage you to choose wisely.  The truth is that most of the time, our friends and family members may be biased toward one of us. So having someone who is aware of the issues involved may not be that helpful.
We encourage couples to consider another couple, preferably a veteran couple (someone who has been married longer than you have). Perhaps a Pastor or an elderly person in your lives you both respect would be a good person to invite into the crucial conversation.
If you both do not trust someone you know or have someone like that in your lives, consider finding a Christian Counselor who will be willing to sit with you while you have the conversation.
The purpose of the support is not for them to offer advice or decide like a referee who is right and who is wrong. The purpose is to have someone else there who can keep both of you having a respectful conversation together. You may want to print the Speaking and Hearing Truth rules and ask them to help each of you follow it.
If there is not anyone in your lives that fit the criteria and you do not have the money to pay for a counselor, consider having your meeting in a public space. Sitting in a restaurant with light music playing in a room full of other people might be enough for each of you to continue to control your emotions and get through the crucial conversation together without a scene.
Check out next week's blog for the part 2 in the 3 series on how to have the marriage saving conversation you are afraid to have.
This article was written by Roy and Devra Wooten, authors of "The Secret to a Lifetime Love". Learn more at www.LifeTogetherForever.com © Roy and Devra Wooten 2014. All Rights Reserved. You may replicate this article as long as it is provided free to recipients and includes appropriate attribution. Written permission for other use may be obtained at Secret@LifeTogetherForever.com.