Lance and Claire were stuck in the blame game. Both were waiting for the other to show them that they were loved. They were basically domestic partners and parents, living totally different lives while in the same house.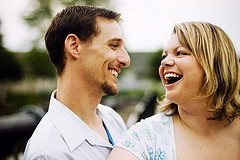 During the Marriage Saving Intensive, Claire told us about how Lance had never really shared what was going on in his heart. "After 18 years of marriage, I know more about how my dog feels about things than I know what Lance cares about." She was miserable and blamed her husband for her unhappiness.
Lance felt like there was a bait and switch. He told us that their love life was wonderful as they began their relationship, but "she has a wall up in our love life. I have leaned to just get through, because I don't have a wife who wants me in any way."   He told us that unless she changes, he is not willing to make any changes.
"So don't sit around on your hands! No more dragging your feet! Clear the path for long-distance runners so no one will trip and fall, so no one will step in a hole and sprain an ankle. Help each other out. And run for it! Work at getting along with each other and with God. Otherwise you'll never get so much as a glimpse of God. Make sure no one gets left out of God's generosity. Keep a sharp eye out for weeds of bitter discontent. A thistle or two gone to seed can ruin a whole garden in no time." Hebrews 12-17 (MSG)
Unfortunately, too many spouses are caught up in a victim state. Unable to see where they have contributed in some way to the relationship problems, they have let the seed of blame blossom into a forest of discontent, bitterness, and anger.
It is one of the saddest things we see in struggling marriages. Each spouse is in so much pain, yet neither is willing to be the first to take action to strengthen the relationship. While waiting to see what the other person does first, the relationship dies. With no one taking action to create the marriage they want, they create the perfect environment for affairs, financial mistrusts, and abuse.
You Created The Marriage You Are In
Remind yourself that you chose the relationship. You chose to marry your spouse. You choose to stay in the relationship.
You choose what you focus on. You are choosing to focus on what your spouse has done (is doing) to hurt you. You are not choosing to focus on the things you appreciate about your spouse. They have good qualities and do positive things for you and things important in your life.
You choose who is responsible. It really takes two to be in a relationship. You cannot control your spouse, what they say, nor what they do. You can only control you. When you are the judge and jury of every interaction, you can choose to see how you are contributing to the problem instead of making your spouse the only responsible party of the relationship struggle. The truth is that each of you have contributed to where the relationship is today.
You choose what you do. How you react to your spouse's actions is your choice.   Your spouse never "makes" you do what you do. When you believe that your actions and words are caused by your spouse, you are saying that you are puppet of your spouse. It is like you are a character in a video game and your spouse has the controller. Own what you do. Take responsibility for what you do
Go First
Here are some steps we found helpful for Lance and Claire, and countless other couples. Unilaterally try these to help you take action, instead of waiting on what your spouse will do.
Decide what you really want in your relationship. State it in positive, future focused terms. Instead of, "I want my spouse to stop…", state, "I want peace, happiness, joy or some other specific things.
Decide what the barrier is. What are you doing that is getting in the way of you having that in your relationship? What about you is keeping you from having the peace, happiness, joy, etc. in your marriage?
Decide what you can do. What can you do that will move you toward the marriage your deeply desire? What is the first step you are willing to take to begin moving out of the stuck place into the relationship that you desire the most? Make this an action step that does not require your spouse's participation. Make it an unilateral action.
Decide how you will measure it. In what way could a third party have evidence that you did what you said would improve your marriage.
Decide when you will do it. In the next week to ten days, when and how often will you do it?
Do it! Don't talk about it. Don't tell someone you will do it. Do it.
If you are looking for a list of unilateral actions that you can take that can create a healthy marriage, spend some time reviewing our blog at www.LifeTogetherForever.com for ideas. You can search for specific issues and find free resources to help you move toward creating the marriage you really want.
We love to hear from readers. What advice do you have for couples who are stuck in the blame game? What has helped you, or a couple you know, get unstuck?
This article was written by Roy and Devra Wooten, authors of "The Secret to a Lifetime Love". Learn more at www.LifeTogetherForever.com © Roy and Devra Wooten 2015. All Rights Reserved. You may replicate this article as long as it is provided free to recipients and includes appropriate attribution. Written permission for other use may be obtained at Secret@LifeTogetherForever.com.