Growing up in Texas, we were taught in school that there are four seasons: Spring, Summer, Fall and Winter. Except for a decade living in the Texas Panhandle, we have lived in parts of Texas that only experienced Spring, Summer, Summer, and Fall.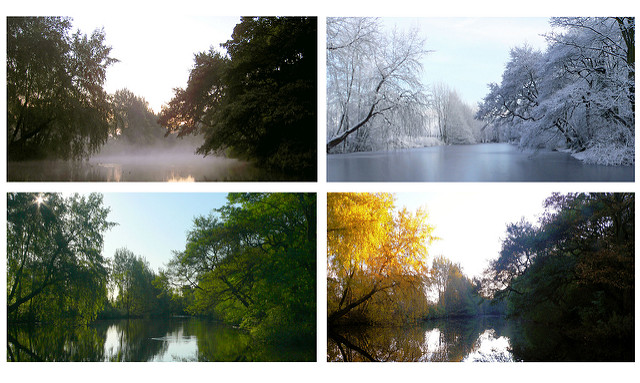 The things about seasons is that they come whether we are ready for them or not.   We do not have any control about when they start or end or whether they are stormy or pleasant. Our job is to be prepared for them and adjust to them. The longer we live, we see them repeat enough that we learn how to do each of them better.
Families Have Seasons Too
Researchers have discovered through studies of countless families that families have seasons too. Like the annual season of life, there are huge similarities among families in the progression and changes of family seasons. We also have a great amount of choice in how we prepare for and adjust to each season.
But unlike the annual seasons of life, we have many choices in our family season development. Our choices influence when, where and with whom we begin our family seasons. Our choices influence how we get through the different family seasons and whether we experience seasons full of story drama, or pleasant peace and joy.
He (Jesus) answered, "Haven't you read in your Bible that the Creator originally made man and woman for each other, male and female? And because of this, a man leaves father and mother and is firmly bonded to his wife, becoming one flesh—no longer two bodies but one. Because God created this organic union of the two sexes, no one should desecrate his art by cutting them apart." Matthew 91:5-6
The Seasons of Family
Singleness: The very first season is when you leave home and begin to establish your sense of an independent person. You define your self and establish some sense of standing on your own, independently from your parents.
Coupling: This season is about creating something new with another. The movement from "me" to "we" requires a realignment of relationships with families and friends and a revision of how we understand ourselves. It requires moving from independence to interdependence and learning to yield your wants and desires to create a future together.
Homemaking: This season requires adjusting to make space for a new person (or more) to create a new family. It requires joining in childrearing, financial and household tasks. It requires us to realign our relationships with extended family to include grand-parenting roles.
Parenting: This season includes the shifting of parent child relationships to permit children's maturity and independence. It is about teaching a core sense of right and wrong and helping them develop the ability to make decisions within boundaries. This season also often requires us to refocus our career and retirement goals and sometimes includes the beginning of a shift toward jointly caring for parents and in-laws.
Launching: This season is about accepting and facilitating exits and entries into the family system. It requires moving our relationship with grown children into adult-to-adult relationships. It also frequently includes realignment of our relationships to include a child's spouse and grandchildren. This season sometimes include dealing with parent's and in-law's handicaps, deteriorating health and death.
Golden: This season is about shifting the generational roles. It requires maintaining our functioning and interests in the face of physical slowing down and decline. It includes the support for more central role of our children while at the same time helping them make room for our wisdom and experience. It means allowing our children to support us without giving them total control of our lives. This season frequently includes dealing with the loss of spouse, siblings and friends and preparing to end life well.
Making Marriage Grow Through Each Family Season
No matter which season your family is in, you and your spouse can grow your marriage.
Keep God at the center of your marriage. God wants to bless your marriage. He is for you and with you, even in the toughest family seasons. Make time to talk to Him in prayer and listen to Him by reading His Word. Go to church to worship Him and do life with other believers.
Prioritize your marriage. Make growing your marriage a priority over all other parts of each season. Carve out time in your schedule to spend time together doing the things that led to you falling in love with each other in the first place. Create boundaries with children, parents, in-laws, extended family, friends and work so that your spouse is your most important relationship.
Talk about family season issues. You cannot prepare for the next season alone. You and your spouse need each other to lean on and partner with as you move through each season. Schedule time to have the conversations you need to have in order to prepare and adjust to each season.
Celebrate Together. We have a honey moon to celebrate when we first marry. More and more couples celebrate their first child by going on a "baby moon" before giving birth. As you survive and grow through each season, stop long enough to celebrate what you have done together!
What do you have to say?
We love to hear from readers.  Have you ever heard of the six family seasons?  In which season are you?  What are you doing to prepare for the next family season?  What would you add to our suggestions to grow your marriage through each family season?
This article was written by Roy and Devra Wooten, authors of "The Secret to a Lifetime Love". Learn more at www.LifeTogetherForever.com © Roy and Devra Wooten 2016. All Rights Reserved. You may replicate this article as long as it is provided free to recipients and includes appropriate attribution. Written permission for other use may be obtained at Secret@LifeTogetherForever.com.