Daniel and Sheri had drifted apart over the course of their seventeen year marriage. She felt deeply disconnected from him. Anytime she attempted to bring up an issue or resolve a problem with him, he distanced himself from her. He was hardly home longer than necessary as he dove into his career. Although he was a great provider and a good father to their three children, she felt alone.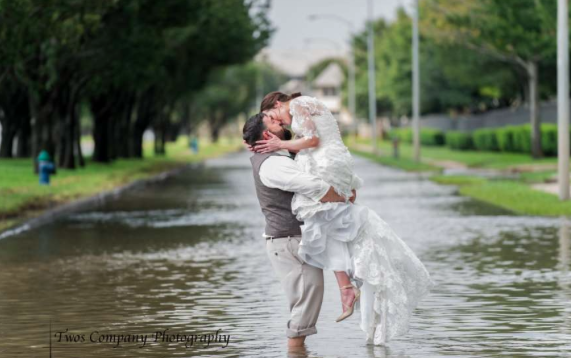 Daniel was frustrated with his marriage. Almost every interaction with Sheri led to her belittling him. He felt like he was holding up his part in the relationship by providing so well for his family, but she had changed. Their early years were sexually enjoyable but he felt like she had turned the marriage bed into a monthly chore she endured.
When Hurricane Harvey dumped over forty inches of rain in their neighborhood, their home took on three feet of water. They had moved as much as they could upstairs but so much of their furniture and home was lost. Sitting in a distant relatives living room, turned bedroom, he told her that their marriage was a sham and he intended to file for divorce the coming week.
Thankfully Sheri reached out to us for a Marriage Intensive. Daniel agreed and God met them in their painful place and renewed their hearts toward each other. They made commitments to build a better future together.
'We simply cannot abandon ship every time we encounter a storm in our marriage. Real love is about weathering the storms of life together.' – Seth Adam Smith
Disasters and Divorce
Disasters, like Hurricane Harvey, frequently amplify problems in the marriage. Catastrophes do not cause divorce. They cause each spouse to better see the marriage challenges in front of them. They shine a light in the broken places of relationships.
Check Your Relationship
How passionate is your marriage? Check your passion with this quiz and discover how you can reignite passion in your marriage again.
How emotionally connected is your marriage? Check your connection with this quiz and discover how you can reconnect and create a deeply connected marriage again.
How committed are you to the future of your marriage? Check your commitment with this quiz and discover how to strengthen your resolve to create a lifelong marriage.
Make The Healthy Move
In every interaction with your spouse, you have the following choices in what you do. You have no control over what your spouse does, but you have complete control and responsibility for what you do. Choose wisely.
Move Away – When disaster strikes, you can choose to move away from your spouse. Moving away includes subtle actions like being unavailable as you are into your device, phone or television, working longer and longer hours, spending all of your time serving, or staying in another room away from your spouse. Moving away also includes separating from your spouse time wise, such as always being with your friends or family and unavailable to your spouse.
Move Against – When disaster strikes, you can choose to move against your spouse by ignoring their attempts for connection, becoming critical, raising your voice, threatening divorce, or engaging in dangerous behaviors.
Move Toward – When disaster strikes, you can choose to move toward your spouse by spending more time together, exhibiting physical affection, telling them what you appreciate about them, and joining them in their favorite past time. You can choose to move toward your spouse even if your spouse is moving away or moving against you.
What do you have to say?
We love to hear from readers. What other suggestions you would add to this article? Do you know someone you need to forward this article to?
This article was written by Roy and Devra Wooten, authors of "The Secret to a Lifetime Love". Learn more at www.LifeTogetherForever.com © Roy and Devra Wooten 2017. All Rights Reserved. You may replicate this article as long as it is provided free to recipients and includes appropriate attribution. Written permission for other use may be obtained at Secret@LifeTogetherForever.com.